Newspapers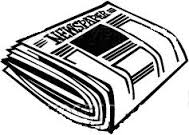 FIRST GREENE COUNTY PAPER WAS AT GRAFTON
In an interesting history of Greene county read before the state historical society, Chas. Bradshaw, editor of the Carrollton Patriot, touches many themes and personages of interest to Jersey county readers.

Among these is a reference to John Russell, the sage of Bluffdale, whose home, remote from the haunts of men was sought by savants and scientists even from the Old World. Russell was born in Vermont in 1793 and came to Greene County in 1828. The old home he built under the Illinois bluffs still stands.

He was a writer of note, and educator of wide experience and became editor of the first Greene county newspaper. The Backwoodsman, which was started in Grafton, (then in Greene county), afterward published in Jerseyville and moved to Carroll – ly end late in 1841, when after it had inlaw, A. S. Tilden, was its publisher.

The publication came to an untimely end late in 1841, when after it had presumed to rejoice over President Tyler's veto of the Bank bill, somebody entered the office at night and dumped the forms and type upon the floor. Russell died at Bluffdale in 1863.
Transcribed from 01 Jul 1920 issue of Jerseyville Republican by Carol S. VanValkenburgh