Biography - Daniel Conway
DANIEL CONWAY was born in the county of Limerick, Ireland, on the 11th of May, 1840. His is the second child of Capt. Thomas Conway and Catherine, his wife. In the fall of 1846 Mr. Conway emigrated to the United States, soon after locating in Canada. As regards pecuniary matters he was quite comfortably situated. In 1851 he became a contractor on the St. Lawrence & Atlantic railroad, and subsequently was a large contractor on the Grand Trunk road. In the railroading business he amassed a considerable fortune. In 1856 he settled in Macomb county, Michigan, where he engaged largely in farming operations, and now ranks among the more opulent citizens of that county.

Daniel Conway attended five years the college at Notre Dame, Montreal, Canada, after which he became foreman on his father's line of contracts. In the fall of 1856 he went to St. Louis, where he turned his attention to learning the machinist trade, and after a short time engaged in engineering on the steamer "Emma," running on the Missouri river trade. He operated in that capacity about two years, and, in 1858, went down to New Orleans. From there he went to engineering on the Jackson railroad. In that city he became a member of the Washington Artillery, consisting of one battalion, in which he held the commission of lieutenant. On the breaking out of the war they offered their services to the Confederate states, and were accepted. He remained in the service four years, and at the battle of Malvern Hill was wounded by the explosion of a shell, after which he was granted a parole of honor and returned to New Orleans. This was while General Butler was in command of the city. And one day, while sauntering leisurely down one of the beautiful avenues in citizen's dress he was arrested, and, refusing to take the oath of allegiance, he was incarcerated in Ft. Pickens; but, with Cap Garing, of Texas, and five others, he planned an escape, although they were captured at the head of Santa Rosa Island, Florida while attempting to cross the bay in a yawl; consequently, they were doomed to a little more prisoner's fare. He was afterwards sent to New Orleans and exchanged under Gen. Banks's administration. A few of the most prominent battles that he was engaged in were Bull Run, Ball's Bluff, Antietam, and Sharpsburg. In 1865 he again resumed railroading, this time superintending the building of the Jacksonville branch of the Chicago, Alton, & St. Louis railroad, under the firm of Brooks, Foster, & C. On the 12th of July, 1866, he was married to Miss Mary L. Costley, daughter of Major Wm. Costley, and old resident of Greene county. In 1867 Mr. Conway removed to Covington, Ky., where he took a contract on the Louisville, Cincinnati, & Lexington railroad. As a railroad man he has proved himself successful. In the fall of 1868 he returned to Greene county, purchasing the old farm known as the "Hugh Jackson place," near the Macoupin bridge, south of Carrollton, and is now the proprietor of Convayville, where he is engaged in the wholesale liquor trade.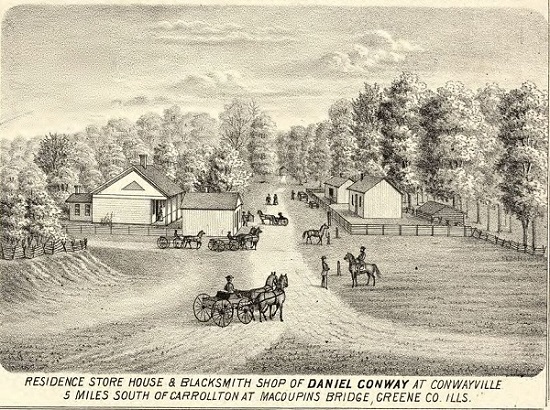 Extracted 07 Sep 2018 by Norma Hass from Atlas Map of Greene County Illinois, 1873, page 46-47.