Courthouse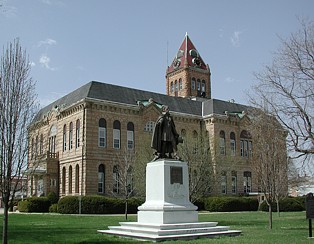 Greene County Courthouse
519 N Main St
Carrollton IL 62016
County Clerk and Recorder: (217) 942-5443
Circuit Clerk: (217) 942-3421
Court Records
Court Records often contain a treasure trove of family history. There are many types of court records, including
guardianship bonds
criminal proceedings
divorces
estate records
probate wills
You can search for court records by visiting the office of the Circuit Clerk at the Greene County Courthouse. You can request a court record search by mail to the Circuit Clerk. Copies of records cost 25 cents per page.
Land Records
Land records dating back to 1821 are available from the Recorder's office. There is an $18 fee for a land records search, which includes copies of up to four deeds. If more than four deeds are found, the office will attempt to contact you regarding possible additional fees.
Vital Records
Although reporting vital records was not required by law until 1916, the County Clerk has some birth and death records dating back to November, 1877.
Requests are accepted for birth and marriage records dating back at least 75 years ago. There are some marriage records dating back to 1821, but parents were not listed on the records until 1878. For a copy of each birth or marriage record, there is an $18 fee.
Requests for death records are accepted for deaths occurring at least 20 years ago. The parents of the deceased were not listed on the death certificates until 1915. There is a $20 fee for each copy of a death record.
To request a search of the indices, you may phone, write, or visit the Clerk's office. When making your request by mail, please include your phone number, copy of your drivers license, payment check, and a self-addressed, stamped envelope.
Vital records since 1916 are also available from Illinois Department of Public Health.
Record Copies